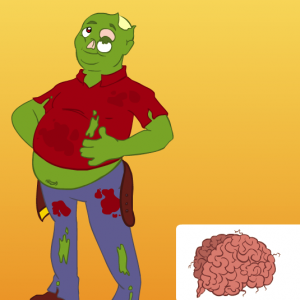 Roles:  Game Designer and Sound Designer.
Production time:  2 weeks.
Team: Rayya Brown-Wright, Robyn Gray, Alexis Oyama, Reid Erik Baker and Antonio Santos.
As part of the Building Virtual Worlds, we made a game where the player is not the typical survivor trying to escape an horde of zombies. The player is the actual zombie. Using a Head Mounted Display, the player sees the world from the perspective of a zombie who has to eat as many of his neighbors as possible.
We built a pair of zombie hands with sensors embedded on them. The player could move using these sensors and eat brains with a sensor on his head. A funny and weirdly beautiful world to explore and of course, eat!